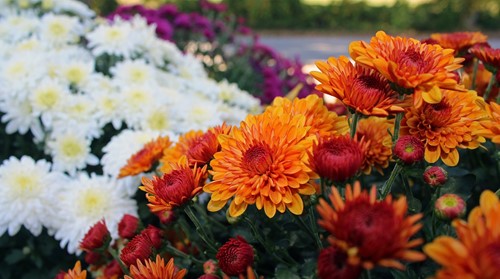 Not everyone has extra time to spend taking care of their front yard. While outdoor spaces are important, it's easy to let yard upkeep fall by the wayside. Luckily there are lots of things you can do to make your yard attractive and inviting without spending hours working on it every week. Here are some of the best tips for creating and maintaining a low-maintenance front yard:
Always Research Your Plant Choices Beforehand
Grass lawns are notorious for requiring time and effort to maintain, but other plants can be just as bad. It's easy to plant a lot of beautiful flowers and shrubs only to find that it's a full-time job to keep them alive and looking good. The best way to avoid this is to research and plan your plant choices before you buy.
Some things to consider when looking for plants include:
Climate Zones - Most plants are labeled according to their respective USDA Hardiness Zones. You can use this information to make sure your choices of plants have a chance of surviving in your climate. While it's possible to grow plants outside of your zone, it's definitely not an effortless task. Choosing plants for your zone will keep your workload smaller.

Compatible Needs - It's important to stick with plants that need similar amounts of sunlight and water. This will save you time and potential frustration over patches of your yard perishing in the heat while others thrive. For example, if you have lots of shade in your yard, group shade-loving plants together rather than mix in those requiring lots of sun.

Upkeep Requirements - Some plants simply require more attention than others. Many flowers need pruning and dead-heading every week during the growing season in order to stay beautiful and fresh. It might not sound like much, but that time can add up especially if you have a lot of plants to take care of.
Plant Perennials Wherever Possible
Perennials are plants that go dormant in the winter and spring back to life every year when the weather gets warmer. All perennials have slightly different growing seasons, so you can plan strategically to stagger them and always have some color in the yard. Perennials will save you a lot of time and money—you only need to buy and plant them once for years worth of foliage or blooms. Hardy perennial flowers like coneflower, geranium and chrysanthemums are excellent choices for low-maintenance color in your front yard.
Don't Forget Mulch
Mulching your yard will keep your plants healthy and keep your work to a minimum. Mulch has several different benefits, primarily helping the soil maintain the right moisture and temperature levels. It also deters pests from preying on your plants and also keeps weeds from growing. Weed-prevention alone is a huge time-saver, but you'll find that with proper mulch application you won't need to water as frequently or worry about many common pests.
These are some basic guidelines to help you create and keep a low-maintenance front yard that still looks healthy and beautiful. As long as you stick to these tips and do your research you'll be able to save time and money while having the best looking yard in the neighborhood.